IMC 2021 International Medieval Congress Leeds
5 July 2021

-

8 July 2021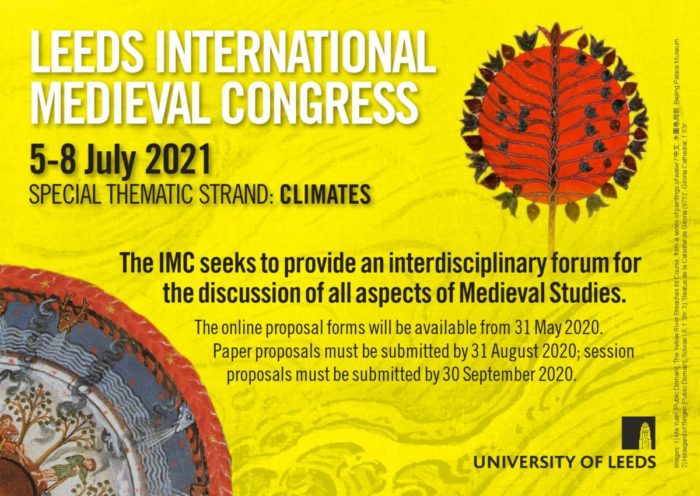 Special thematic strand: Climates.
Panel: #TakeBackControl: Imperial Authority in Late Antiquity
Time: 5 July 2021: 11.15-12.45
Programme here
Organiser: Jeroen W.P. Wijnendaele
Moderator: Benet Salway
Featuring among others: Jeroen Wijnendaele, '"The Last Shadow Puppets"?: The Final Fight for Western Imperial Control, 455-480'.
Panel: Writing Letters in Climates of Conflict during Late Antiquity
Time: 7 July 2021: 16.30-18.00
Programme here
Organisor: Daniel Knox
Moderator: Danuta Shanzer
Featuring among others: Madeleine St. Marie, 'A Bishop in Unstable Times: Conflict in the Letters of Sidonius Apollinaris'.
Panel: Seasons of the Mind: Weather and Interiority in Literature
Time: 8 July 2021: 16.30-18.00
Programme here
Organiser: IMC Programming Committee
Moderator: Andrew Richmond
Featuring among others: Richard Rush, 'When the Rhône Boils: Literary Uses of Hot Summer Weather in Sidonius Apollinaris's Epistula 2.2 and the Vita Apollinaris'.
Details
Start:

5 July 2021

End:

8 July 2021

Event Category:

Event Tags:

Website: